Fish Farms in South Skye Lochs
ENVIRONMENTAL ARGUMENTS AGAINST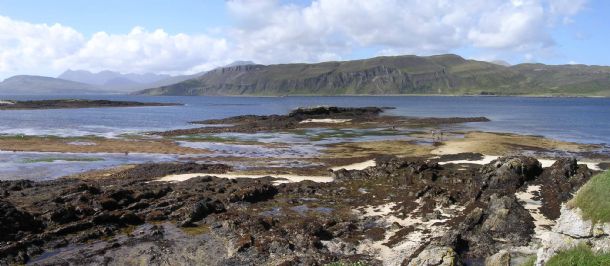 Low tide view across the maerl beaches in Loch Eishort towards Suisnish
In 2012 the South Skye communities became aware of a large number of planning applications, at different stages on the way to completion, had been submitted to The Highland Council. Marine Harvest (Norway) wished to place one farm in Loch Slapin, off Suisnish Point, whilst Grieg (another large Norwegian company) were seeking to place one at the same Loch Slapin site and another two, perhaps three, in Loch Eishort, plus three more in the Sound of Soay in Loch Scavaig.
Having heard about the Marine Harvest bid with little more than two weeks before the public consultation closing date, the Sleat community rapidly organised a public meeting so that information about the situation could be shared. By the closing date, the council had received ninety-one comments of which the overwhelming majority was against new fish farms in the south Skye lochs.
November 2015 broughht the welcome news that all planning applications had either been refused or withdrawn. Community support was acknowledged as a key driver in this outcome.
A founding remit of SLEF is the implementation of the Skye & Lochalsh Local Biodiversity Action Plan, so SLEF is implicitly involved in the protection of wild species and habitats in the region. That means, among many other projects, speaking up for biodiversity of the south Skye lochs when they are threatened by commercial development by such as aquaculture, which research has shown to be detrimental to sensitive wild ecosystems.
There are numerous threads in the arguments for and against salmon farming:
• Landscape modification, neutral or deterioration.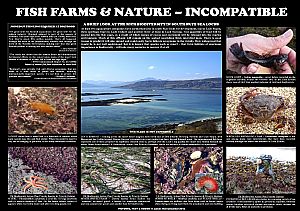 • Local employment, improved or otherwise.
• Local prosperity, enhanced or otherwise.
• National prosperity, enhanced or otherwise.
• Scottish Government treaties and policy re farmed fish production.
• Contradiction of government policies on commerce and conservation.
• Noise and light pollution.
• Fish feed and effluent pollution = sedimentation and enrichment. DOWNLOAD Poster
• Verterinary chemicals added to the marine environment.
• Escaping diseased non-native fish species and 'pollution' of local wild gene pools.
• Fish/sea lice attacking wild fishes.
• Wild fish population crashes (e.g. salmon, sea trout, cod) causes known or unknown.
• Ecological effects on the sea bed beneath fish farm.
• Ecological effects beyond the fish farm, nearby and distant. Biodiversity and habitat safety.
THIS DISCUSSION deals specifically with effects of fish farming on biodiversity and ecology in the Lochs Slapin, Eishort and Scavaig, the south Skye lochs. Meanwhile, the other issues above all need to be understood and addressed
READ MORE about harm done by fish farming and CLICK HERE for access to scientific evidence (particularly relevant to south Skye) that fish farms and nature are incompatible.
LEARN MORE at the Scottish Salmon Think-Tank website.
OPERATION SKYE DIVE An important way in which we can speak up on behalf of biodiversity is to show people, particularly politicians, what we have biologically. That means gathering information - formal, incontrovertible scientific evidence - which on the subject of biodiversity in the south Skye lochs is poor (though a few of us locals know it's top quality). An e-mail went out to diver-biologists all over Britain inviting them to volunteer - we have no funds - to survey the lochs and gather biological data so that statutory bodies responsible for wildlife - such as Scottish Natural Heritage (SNH), the Scottish Environment Protection Agency (SEPA) and the Scottish Government - will be better able to fend off aggressive fish farming companies who frankly care more about profit than the safety of marine wildlife into the future. Returns have been almost overwhelming.
OPERATION SKYE DIVE has now morphed into a local Coastal Community Group SOUTH SKYE SEAS INITIATIVE (SSSi) who, with the aid of a remotely controlled underwater drone, boats and cameras is well under way with this marine ecological survey project.