Reptiles and Amphibians in the spotlight in Arnisdale
Posted on
In the first event of a brand new programme of SLEF activites, over 20 residents and visitors joined visiting expert David OBrien to discover more about lizards, newts, frogs and toads in Arnisdale yesterday.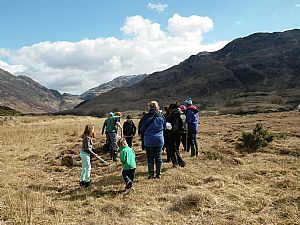 David began the session in the Ceilidh House with an entertaining and highly informative presentation, focussing on species of amphibians and reptiles likely to be found locally, but with passing reference to non-native species and some of the threats they present.
After packed lunches and cake, we headed out into the glen to look for the real thing.
Several artificial 'refugia' or tins (ie pieces of rusty metal sheet and an old plastic sledge!) had been strategically placed a few days before hand in the hope of tempting a few temporary residents, but unfortunately, this cunning plan failed and we had to search elsewhere.
However, with many of pairs of keen and enthusiastic young eyes, the first of numerous frogs was found, closely followed by several toads.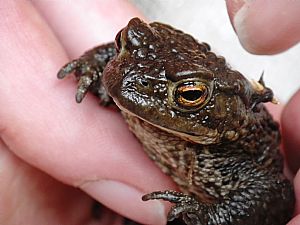 Lizards and slow worms proved elusive although known to be in the area, probably due to the untimely arrival of clouds (remember them?) and a resulting dip in temperature.
Guddling in a drainage ditch was rewarded by discovery of various damselfly lavae, small sticklebacks, much frogspawn, including one clump tended by a toad...and an impressive great diving beetle.
A final triumph for the hardy group still hunting at 4pm was the discovery of several young newts in the deepest part of the ditch. These would have spent the winter at the bottom of the water and, given a slight warming in the temperature, will emerge as adults in the next few weeks, though won't mature enough to breed themselves for about 3 years.
A big thank you to the residents of Arnisdale for allowing us the use of the lovely Ceilidh House for the morning session and for being part of the enthusiastic group and to David OBrien for sharing his passion for this fascinating group of cretaures with us.